Orthotics
Here in Walkwell Clinic I use both custom made orthotics or off-the-shelf orthotics that I customise for the patient.The type and whether custom or off-the-shelf will depend on many factors.The age of the patient, the condition to be treated, the lifestyle and hobbies of the patient, and the footwear the patient wears.
Custom made orthotics require me to take a plaster of paris impression cast of the patients' feet in the neutral position. The casts are then sent with a prescription form, detailing what is required for this patient, to a laboratory where the devices are then fabricated.
There are many different types of orthotics.The correct type is determined from the findings of the assessment carried out on each patient.Each custom made orthotic carries a six month guarantee for adjustments/ alterations if necessary.
It is important to stress that orthotics are only part of a patients treatment here in Walkwell Clinic.The other part are the exercises that are given and the footwear advice.
What is an Orthotic
It is a device /insole to correct, support or control misalignment of the body.
A custom made orthotic This is made from an impression of your foot taken when the foot is in its neutral position i.e. its best functioning position. The orthotic is then posted or wedged/angled to what corrections are required for that patient.
A prefabricated orthotic. There are many different types of prefabricated or off the shelf orthotics and some of these can be adjusted to suit the needs of the patient. This can be a more affordable solution for many patients.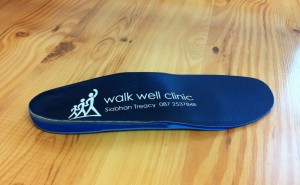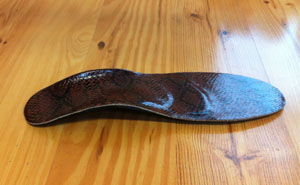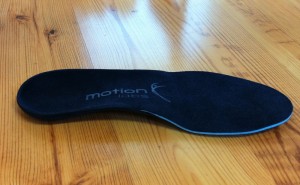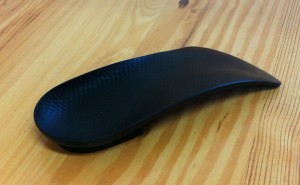 Footwear
An orthotic is only as good as the vehicle it travels in. at Walkwell clinic we have a selection of men's and ladies shoes that will accommodate orthotics.